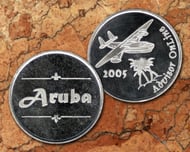 Cincinnati, OH - Mutual Service Corporation used custom promotional coins to tie-in their "Aruba" theme and make their 2005 National Conference unforgettable for the 900 attendees. New software they were promoting at the early May event, called Advisor OnLine codename "Project Aruba." A letter was sent to the attendees, promoting the software and how it would benefit their business. The envelope also contained a custom aluminum coin bearing the name of the software and its codename ("Aruba"). The letter also directed them to bring their coins to the round table discussion, for a chance to win a prize.
Two of the custom aluminum coins had been painted gold, mixed into the rest of the mailing materials, and sent out at random. During the round table discussion, while they were discussing the advantages of the Advisor OnLine program, Chris McDaniel – Senior VP and Chief Information Officer for Mutual Service Corporation asked everyone to dig into their pockets and bring out their Aruba coins. He then asked the holders of the gold coins to step forward. Two lucky recipients were presented with another themed tie-in, "Aruba shirts" (which appear similar to Hawaiian shirts to the casual observer).
"It was a great way to promote Advisor OnLine "Aruba" and build enthusiasm" stated Mutual Services' Christine Savarese who assisted in the ordering and distribution of the coins. "Originally we wanted to send nickels from Aruba but it was impossible to get that many, so we made our own coins. We were able to mint the coins exactly like we wanted. It was a great way to tie-in our theme."
In addition to being a memorable part of the annual meeting, the custom coin promotion was cost effective and time efficient. The coins, which were purchased from Osborne Coinage co. for less than a $1 each, were delivered within four weeks of the order date. Since people tend to keep custom coins, they'll serve as a constant reminder of the National Conference, evoking memories of Mutual Service Corporation, Advisor Online and "Project Aruba" for years to come.