Why should you sell promotional coins to your clients? Well, it's simply common cents.
We're breaking down all the benefits of this unique product category so you can add an effective promo to your repertoire and open up an entirely new revenue stream to increase your sales numbers this year.
Custom Coins: What are they?
New to selling this product category? No problem. Custom-minted coins and medallions are completely custom-made and imprinted with your client's artwork and marketing messages. This category is simple to sell, and it's a product you and your clients are likely already familiar with, even if you haven't sold coins as promos before. Promotional coins can be used for many types of projects too: souvenirs, awards, commemorative gifts, reminders, coupons – the only limit is your creativity.
To help you start selling profitable coins, America's oldest private mint Osborne Coinage is sharing the top five benefits you should explain to clients to win the order.
1.

Affordability
Don't be fooled: Just because custom-minted coins look like money doesn't mean they cost a lot. In fact, because Osborne Coinage has a wide selection of metals, you can provide clients with custom coins for less than a dollar per piece. Steer your clients with limited budgets toward affordable aluminum, and those with more to spend toward fine silver. What's more, Osborne Coinage also offers a variety of sizes and a portfolio of stock designs that can be used to further accommodate almost any budget.
2.

Antimicrobial properties
With COVID-19top of mind with your clients and consumers alike, health and safety benefits should be highlighted in all of your sales calls. For example, did you know copper kills viruses like COVID-19 and its variant strains upon contact? The ions in copper disrupt the protective outer membranes of viruses, ultimately destroying them. This is great news for custom-minted coins. Osborne Coinage includes copper in many of their metal offerings, such as their brass and nickel silver alloys that contain at least 65% copper. Let clients know custom-minted coins are especially timely as they'll reduce the transmission of germs and disease.
3.

Longevity
When it comes to promos that stand the test of time, you can't do much better than custom-minted coins. Consider this: When you hear of ancient items found at archeological sites, what are they? Coins, tools, jewelry – items made from metal. Custom-minted coins will retain their quality from the day they're die struck to thousands of years into the future, and because metal is formed into the design itself, artwork won't chip or fade over time.

Be sure to only order from a reputable mint for these long-lasting benefits, though. Unlike other suppliers that may use cheap metals like zinc on the inside, Osborne Coinage uses only solid metals inside and out, so die struck coins will remain crisp and clear for years to come
4.

Collectability
Promos are only useful if they're kept. Think about it: If giveaways are thrown away as soon as they're received, did your clients really gain any impressions at all? Promotional coins take it a step further as they won't only be kept – they'll be collected. Recipients will feel inclined to hang onto custom-minted coins (they do look and feel like money, after all) to remember the special event they attended. And because custom-minted coins retain their designs so well, each coin will deliver impressions every time end-users take them out for a walk down memory lane.
5.
Great for gifts and awards
Last but not least, remember to emphasize the appeal of coins for gifts and awards. This is an especially timely need as many businesses are looking for ways to thank and recognize staff working through difficult circumstances, or to reward consumers who have stayed loyal through challenging times. Osborne Coinage makes it easy to do so in a variety of ways. Their colorization process allows for personalization like names, dates and event locations. And don't forget about packaging! Osborne Coinage offers impressive packaging options like wooden gift boxes, velour pouches, easels and stands, coin cards and more for a comprehensive gift-wrapped look.
Share the below project example with your clients to help them visualize how custom-minted coins can be used for their next promotion.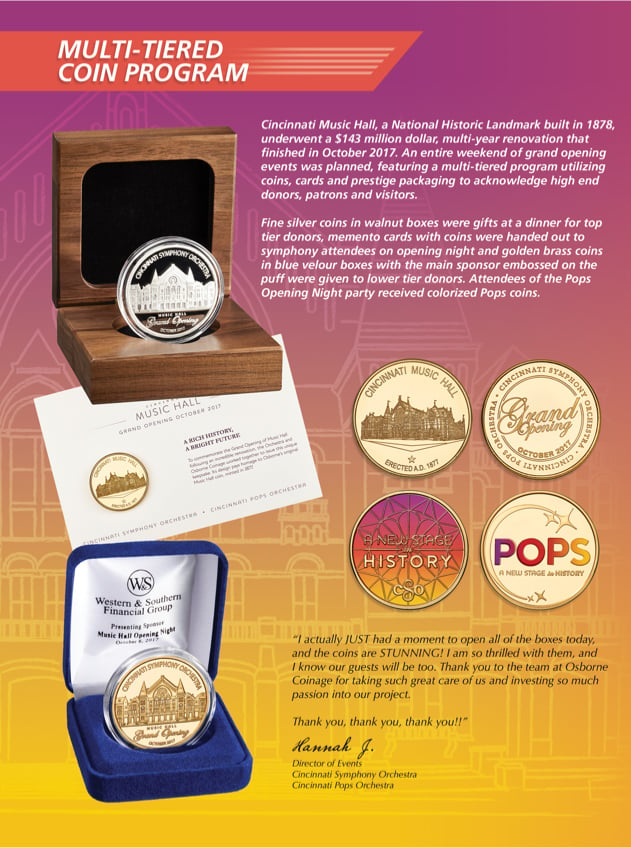 Ready to sell custom coins to your clients? Osborne Coinage is the supplier you'll want to work with. Not only are they the oldest private mint in the country (est. 1835), they also have an impressive resume, once fulfilling campaign orders for Abraham Lincoln himself! Flash forward to present day, this third-generation family-owned business is proud to be an ASI 5-star supplier, still bringing that same level of care and expertise to your clients' orders.