Big Mac 50th Anniversary Campaign Wins a 2019 Golden Lion for Excellence in PR
Why is this work relevant for PR?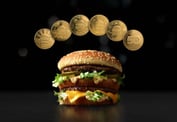 When was the last time a branded product anniversary became a global phenomenon AND drove sales? Just like the Big Mac had become a part of culture, so did the MacCoin. And we did it with an earned media-only program. We didn't have new news, celebrities, commercials or print ads. Zero paid media. With the Big Mac coin promotion, we created something unique and so original that people across the globe carried our story for us.
Background Story
In 2018, McDonald's most iconic sandwich, the Big Mac, was turning 50. And while 50 years of Big Mac had the potential to be a great story at McDonald's, even for a sandwich that's served in over 120 countries, branded birthdays typically provide zero incentive to go to the store and buy something.
From a business perspective, as one top franchisee wrote, "The Big Mac has gotten less relevant." As history tells us, as Big Mac goes, so goes the brand. While the Big Mac is a global icon and has always been a menu favorite, sales were flat and it was losing relevance among younger audiences. Only one in five millennials had even tried a Big Mac.
We needed to turn this 50th anniversary into a global cultural moment and activate at a scale that even McDonald's had never seen before—all while generating unprecedented results.
The creative idea
To inform our strategy, we conducted global social listening as well as an exploration of the cultural context of the Big Mac. One insight jumped out: anywhere you go in the world, across more than 120 countries, a Big Mac is a Big Mac is a Big Mac.
In fact, the Big Mac is so ubiquitous that The Economist uses it to measure the purchasing power of international currencies every year with its annual Big Mac Index. For 31 years, this has been a legitimate measure of currency health for 48 countries and has become a global economic standard, included in economic textbooks and the subject of 20+ academic studies.
Our insight: If it's good enough to measure the value of 48 global currencies, it's good enough to BE a global currency.
Introducing MacCoin, the world's first fully food-backed currency, each one worth one Big Mac around the globe.
The PR strategy
We minted 6.2 million real MacCoins with five unique designs (in seven languages: Arabic, English, Indonesian, Mandarin, Portuguese, French, Spanish) celebrating the five decades of Big Mac. These MacCoins were then distributed to over 50 countries around the world to be shared, collected or redeemed for a free Big Mac.
As an earned media-only campaign, the launch moment and distribution channels were critical. With our guidance and a custom global marketing toolkit, each country crafted the most effective, authentic and culturally relevant activation plan for them.
We launched by debuting a global piece of content that was shared in every participating country. It showed the journey of the MacCoin being minted and traveling through countries throughout the globe, before eventually landing in the hands of an excited Big Mac fan.
From there, countries kicked off their own unique Big Mac celebrations with the MacCoin.
The Execution
New Zealand, Chile, Portugal and Puerto Rico drove MacCoin-themed trucks cross-country distributing the coins.
Argentina kicked off a professional football match by flipping a MacCoin.
China held a press conference attended by hundreds of media and fans to unveil the new global currency.
Canada saw one fan got a tattoo of the Big Mac just to get his hands on a MacCoin.
And on launch day in the U.S., the MacCoin made The Tonight Show with Jimmy Fallon, and Alexa was talking about us—mentioning the MacCoin in her daily briefing.
Even in countries that weren't part of the campaign media were talking about MacCoin—UK and Australia didn't participate, but were near the top of media coverage charts.
All of this built to MacCoin launching in-restaurant for fans everywhere to be able to get their hands on the world's most delicious currency.
The Results
On social, we had more than double the mentions than the previous top-performing McDonald's global activation with a 95 percent positive/neutral tone in conversation and coverage. And we had more than 4,000 global traditional media placements. In the end, garnering impressions that reached over 3 billion, more than any other global program to-date.
We didn't just top ourselves. When everyone was trying to ride the cryptotrends, we zagged. Three QSR competitors had crypto/bitcoin campaigns in 2018, but our analog MacCoin had more social mentions than all three. One competitor even leaned into the hype around MacCoin to try to drive sales of a new limited-time burger. Imitation is the sincerest form of flattery, after all.
Globally, MacCoin generated a 6% increase in Big Mac sales week over week in thousands of restaurants around the world.
-- In the U.S., Big Mac sales increased 40%, almost $2 million in incremental sales, selling over 400K additional Big Macs the first day alone.
-- In New Zealand, total comp sales increased by 5.6% and comp guest counts by 0.6%, with a 21% hike in Big Mac sales.
-- China gobbled up all their 1.2 million coins in just three hours and sold 300K Big Mac meals in one day.
-- Canada generated a 7% increase in Big Mac sales during activation week (and inspired one fan to get a tattoo of a Big Mac just to get his hands on a MacCoin!).
| | | |
| --- | --- | --- |
| The Big Mac coin promotion wasn't just some brand anniversary. We'd created a global phenomenon. | | |