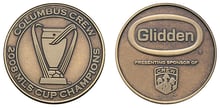 Cincinnati, OH – Championship seasons are rare and need to be celebrated. That is true from the pee-wee leagues all the way through the professional ranks. And when a major league team wins the championship for the first time ever – well, then the celebration is really something special.
So as the Columbus Crew claimed Major League Soccer's highest prize – the MLS Cup – Tim Macy with one of the Crew's MLS licensees, On Target Brand Merchandise, was already thinking ahead to the next season. More specifically, he was planning on how the Crew could commemorate this momentous event and reward loyal fans for their season-long patronage.
"The team and their sponsor really wanted to do something different – something memorable" says Macy, "we wanted to give the fans something that would become a collector's item."
So he suggested a custom bronze medallion to be given away at the start of the following season – to keep the championship fervor alive, as a new season begins. The result was truly something for everyone – the team, their supportive fans, and the corporation whose sponsorship has meant so much to the team.
"We minted a coin with the MLS Cup trophy on one side" explains Macy, "and logos of both the Crew and their corporate sponsor, Glidden, on the other." Two variations were originally minted – an aluminum version which was given away as part of the Crew Soccer Tour, and a heftier Verbronze ™ (antique bronze) coin which was used in the post-game giveaway. A nickel-silver version was also minted as a special "thank you" to Glidden executives. All versions were well received. "Everyone loved them" recalls Macy "the response was fantastic – very favorable."
Serious Coins – for Pennies
While the coins were well conceived and crisply minted – truly a cool coin for serious fans – the price was very affordable. On Target Brand Merchandise produced coins in aluminum, Verbronze, and nickel-silver using the same design. This allowed them to put together a very reasonably priced collector's item that met their client's distribution and budget needs.
In addition to rewarding fans for their support, the custom coins are also a way to relive memories from the championship season, and build excitement for another run at the title. Clearly a championship season is full of memories. For fervent fans, those memories are personal – an unbelievable goal, an awesome assist, or a breathtaking save. Columbus Crew fans can relive their favorite memories from their first championship each time that they handle their commemorative custom bronze medallion. This "personal branding" message is a positive aspect of the custom coins – and clearly it is favorable not only for the fans and the team, but also for the corporate sponsor, Glidden, whose logo also adorns the coins.