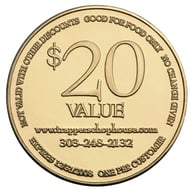 Cincinnati, OH – As any marketing 101 students will tell you, during tough economic times consumers do not stop forming impressions about companies – they merely slow down their buying of goods and services. Rather than trying the same old marketing efforts and hoping for new results, companies which use memorable marketing and promotional efforts are more likely to be rewarded when consumers do make purchases. That is especially true when it comes to gift certificates which are fast becoming the gift of choice for family, friends, and acquaintances.
Increasingly companies seeking memorable promotions are finding success with an idea that is not new and revolutionary but tried and true – having been around for over a hundred years – custom business coins.
A Mile-Wide Smile in the Mile High City
When Tom McCann purchased the Parker Holiday Inn almost a year ago, he knew that Trapper's Restaurant, which occupies the top floor, held a 4-star rating. What he did not realize was what a well-kept secret this was within this suburban Denver community. So McCann devised a strategy to get the word out on his upscale steak house.
Intending to contact every member of the community, McCann had 100,000 menus printed on heavyweight paper stock. Then he had a slot cut into each so that they could function as a door hanger. But the centerpiece of the program, and the means by which he can judge its success, are custom Gift Certificate Coins worth $20 towards a Trappers food item. The custom business coins are minted by Cincinnati-based Osborne Coinage with the Trapper's logo on one side along with their tagline "Parker's Finest Steak House." The other side contains the $20 face value, the website address, and the phone number.
"The coins are unique," says McCann. "Because they are hefty, they convey an image of quality, which is important to us." In addition to creating a quality image, the bright gold coins also reinforce the upscale image of this $40-a-plate restaurant.
In addition to creating awareness for the restaurant, the coins are also drawing in patrons. "The program has been really successful," says McCann. "We've already broken even on all of our expenses and we still have some coins left for another campaign in the fall. Best of all, we're seeing repeat customers." And that has McCann smiling all the way to the bank.
A Proven Promotion – No Beans About It
When Gloria Jean's Coffee Beans began franchising their coffee stores a decade ago, their initial challenge was getting people into the stores. They figured if they could get people to try a cup of coffee then they'd be able to convert those samplers into customers. The biggest hurdle was getting them into the stores.
So rather than having workers canvass the malls (most of the chain's stores are located within shopping malls), the management decided on a unique approach. They had custom coins minted which are worth a free cup of coffee and then rolled them down the aisles of the shopping malls. Shoppers would see what looked like money on the ground and pick it up – then head on over to Gloria Jeans. In addition to breaking through the clutter of marketing messages, the custom business coins were successful in drawing people into the store. A side benefit for the Gloria Jeans program was that the coins are re-usable – so a single coin can help to convert literally dozens of shoppers into customers.
"People are used to spending money – and custom coins look, feel and spend like real money," says Osborne Coinage Company's David Blumenfeld. "While we all discard paper coupons – people rarely throw away these coins because they are so unique and because they have a high perceived value."
That perceived value means that while they may not be redeemed right away, they will be kept – in pocket change, on the dresser, in the ashtray of the car – wherever people keep their loose change. Every time that they see the custom coin it is delivering a marketing message and helping the company to build its brand.
Gloria Jeans initially minted coins worth a free cup of coffee. This promotion was so successful that they also used coins as gift certificates – in $10, $25, and $50 denominations.
"Using coins as gift certificates allows companies to really flex their creativity," says Blumenfeld. "Because they are made to order for each project, companies can include a portrait of the founder, the company mascot or logo, or whatever marketing message in whatever denomination that they choose."
Great Ideas Seem to Be Repeated
The owners of the Brown Derby Restaurant are sold on this concept and used it for the grand opening if their new restaurant in Albany, New York. Bobby Malozzi loves the uniqueness of the promotional coins, and their "WOW" factor – as well as the increased security that they provide.
"The coins are very unique and memorable. Ours are encased in a plastic capsule which is put into a heavyweight box and then into a decorative bag – it really makes a nice presentation" says Brown Derby owner Bobby Malozzi.
Unlike plastic swipe cards can be easily cloned, custom business coins are very difficult and expensive to replicate, which makes them more secure.
Stand Out Naturally
"Of the millions of coins that we make every year, only a small portion is minted as gift certificates" continues Blumenfeld. "Consumers are bombarded with traditional gift cards and paper coupons – so it only stands to reason that if you want to stand out – if you really want to be different from your competitors who are using paper coupons and plastic swipe cards - then you'll do something different. That is the opportunity that custom coins allow."
As the Brown Derby's Bobby Malozzi and Trapper's Chop House's Tom McCann have found out – custom business coins are one way to get your marketing message seen, noticed, and most importantly acted upon. And that makes them truly valuable – especially in tough economic times.