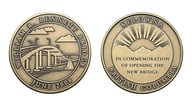 Cincinnati, OH – The opening of the new William R. Bennet Bridge which connects the city of Kelowna with the newly formed municipality of Westside was a major event for the citizens of British Columbia. Described as the centerpiece of a revitalized road network in the Okanagan Lake region, the new 5-lane bridge relieves congestion along Highway 97 and accommodates an average of 46,000 vehicles a day. The 2 additional lanes will fuel further growth in the regional economy – especially the signature tourism industry – so that by 2017 the bridge is expected to carry an average of 69,000 vehicles per day. Naturally, city planners wanted to commemorate the dedication of the new bridge in a special way. So a custom commemorative coin was minted to signify the occasion – and given to participants in the opening ceremony and opening day festivities.
Everybody Loves a Parade
There is something inherently festive about a parade. So when the William R. Bennet Bridge was officially opened, it was fitting that a host of dignitaries – including the Premier, the Minister of Transportation, and the local mayors – lead the parade across. As the procession reached the end of the bridge span, a receiving line naturally formed – and the dignitaries were able to thank the rest of the procession for their participation. As a token of thanks, everyone in the procession was given one of the commemorative coins. A festival of sorts was held in the park adjacent to the bridge, including food, live entertainment and other festivities. The Ministry of Transportation, which oversees all transportation related activities in the province, had several booths with information about the building of the bridge – as well as more of the commemorative coins.
"The whole event was a great way to mark the occasion" says Audrie Henry, Community Relations Representative for the William R. Bennet Bridge Project. "This is a historic event and we wanted something to remember it. The custom engraved coins were very well received."
Someone from the Ministry of Transportation designed the logo which was then minted onto the coin which was produced by The Osborne Coinage Company of Cincinnati, OH. All told, nearly 10,000 custom made coins, which are protected by plastic containers called capsules, were given away during the event. Due to their uniqueness and their perceived value, custom engraved coins are rarely discarded after the event, which is one reason why municipalities and companies have long used them to memorialize historic events and anniversaries.
"This Bridge is an important aspect to fuel the growth of this region" comments Henry. "Many of those in the procession are local residents who will benefit directly and indirectly from that growth. We're confident that the coins will serve to reinforce the memory of the grand opening long after the bridge has become commonplace to them."