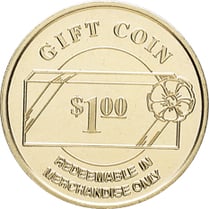 Cincinnati, OH – Custom coins can be minted in various "denominations" and used as gift certificates to provide a safe and memorable means of promoting restaurants and dining establishments. Unlike plastic cards which can be inexpensively cloned, custom coins are virtually impossible to replicate – making them much safer (and ultimately more profitable) when used for gift certificate programs. In addition, custom gift coins are distinctive and memorable, so they have a greater "WOW" factor than coupons or plastic cards. Because of their heft and perceived value, custom coins are rarely discarded – so even if they are not redeemed, they provide branding power unmatched from other gift certificate programs.
When packaged in plastic holders, cases and gift bags to enhance their attractiveness and bolster their presence as gifts, custom coins present a more upscale and substantial image than other types of gift certificates.
In addition to gift certificate denomination, unique coins can be minted with establishment name and logo, website, phone number and marketing message, allowing restaurants a cost-effective means of differentiating themselves. Hundreds of stock designs are also available in metallurgies and quantities to suit any promotional project. .