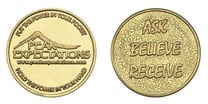 Cincinnati, OH – Terry and Marilyn Peak developed a memorable, distinctive way to spread a motivational/inspirational message while promoting their promotional products company at the same time. They had custom coins imprinted with their logo on one side as well as the message "Put the power in your pocket. Feel the power in your hand." The reverse side of the motivational coin is imprinted with "Ask. Believe. Receive."
Everyone that they encounter receives a motivational coin. In just 6 weeks, the Peaks have passed out nearly 1000 of the 5000 bright gold coins that they purchased. "They create conversation, they create thought, people are happy to have them," says Terry Peak "and we're having a lot of fun with them."
"Basically every time that we hand out a business card we also hand out a coin," says Terry Peak. "You never know where you may run into a prospect, so we always have a pocketful of coins."
Spreading a motivational message is personal for the Peaks. Both Terry and Marilyn worked for a family owned construction-related business for over 20 years before being displaced when the company was sold 4 years ago. While they've had jobs since then, they haven't had much satisfaction. They wanted to make "Power Chips" – custom poker chips imprinted with powerful, encouraging, healthy life words. But their research showed that by the time the products were made and sold through distribution the price point would be too high. Eventually, they hooked up with PressAPrint and started their own promotional products company. They hoped to make their own "Power Chips" but found it more complex than anticipated, so they purchased the coins from Osborne Coinage Co.
"There is just not enough positive thought in the world today," said Terry. "We want to provoke a thought process – there is more to the life than the day-to-day hustle-and-bustle. We want people to have a little faith in themselves and pursue their goals. Make your life what you want to make out of it."
Apparently the message resonates with their audience, because the Peaks have gotten a lot of positive feedback and responses from the coins.
In addition to spreading positive messages and goodwill, the motivational coins are also helping to set their promotional products company – Peak Expectations – apart from their competition. In addition to handing out the coins, the Peaks have mailed them to business acquaintances amassed during their 20 years working for a small family owned manufacturer. "We send out a letter mentioning who we worked for and reiterating our knowledge of their industry and their unique needs. Many of the letters are, 'it's been a while since we've talked' approach, but everyone is happy to receive the coins. They definitely remember them when we make follow-up calls."
But memorable does not have to mean expensive, as Peak found. He purchased 5000 of the custom brass coins for about fifteen cents each. When he runs low, he'll likely consider changing the message, but he'll "definitely be ordering more coins. In our business and in our personal lives we will always have a coin to hand out."
Having a memorable business card is certainly a plus in any business. It is vital if your business is inspirational promotional products and ad specialties. While coins are admittedly more expensive than traditional business cards, the "stickiness" of the coins makes them worth it.
"People are reluctant to throw away the coins. And every time that they see them in their pocket change, they have an opportunity to think of us." Since being top-of-mind when your prospects have a need is vital to getting their order, the motivational coins seem to be working for Peak Expectations.