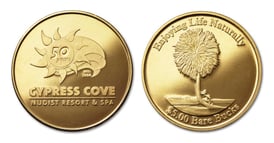 A thirty-minute drive south of Walt Disney World, Sea World, and Universal Studios, a different world altogether awaits vacationers looking to relax "just as nature intended." Cypress Cove Nudist Resort & Spa offers 300 acres of protected wetland, a lake, a residential community, campground and R.V. park, as well as 84 hotel rooms for clothes-free vacationers from around the world. Recently, Cypress Cove celebrated their 50th Anniversary. In order to properly commemorate 50 years of "enjoying life naturally," the owners ordered 1,000 custom minted coins from Mark Vaughan of their "go-to" advertising specialty supplier Match-Up Promotions.
Cypress Cove officials wanted to do something unique to celebrate the individuality of the resort as well as the uniqueness of commemorating 50 years in business. About the size of a half-dollar, the commemorative gold coins have heft and substance and clearly call out the resort's anniversary. They had the custom coins minted in shiny Goldine® to correlate to their golden anniversary. One side has a sunburst engraved with the words "50 years, est.: 1964" and below it "Cypress Cove Nudist Resort & Spa." The opposite side features an engraving of a figure underneath a billowing palm tree on a beach, with the resort slogan "Enjoying Life Naturally" and "$5.00 Bare Bucks." It's a bright gold coin with sunny-themed images, made to remind visitors of their relaxing time at the resort.
The commemorative gold coins can be redeemed at the resort's many restaurants and gift shops, basically anywhere that cash is accepted. There's Scuttlebutts Lounge, for breakfast with a view of the sunrise. Night owls can visit Cheeks Bar and Grill for a fun way to cap off a relaxing day. Although some of the coins have been redeemed, many are also being kept as keepsakes, as you might expect from a commemorative anniversary coin.
Cruising to a Memorable Promotion
Cypress Cove is one of four featured clubs recognized by the American Association for Nude Recreation (AANR), an organization created to promote clothes-free lifestyles. AANR offers different vacation and recreation opportunities for members to take part in, varying from cruises to timeshares. Cypress Cove was able to celebrate their success within the nudist community by distributing the 50th Anniversary coins at AANR cruises and meetings. The AANR boasts several thousand members, many of which are foreigners from all over the world coming to vacation in America. Because AANR cruises and events are a mixing pot of members from across the country, and the world, Cypress Cove was able use the Cove Coins to put their resort name physically into the hands of hundreds of people. They also were subtly promoting the resort by drawing visitors who now had $5 worth of redeemable Cove Coin cash in their hands.
Cypress Cove also distributed the Cove Coins at the resort itself, creating a year of events and special promotions to celebrate their golden anniversary. Threadbare tourists earned the coins by winning sports events, such as a fall Volleyball Tournament. The resort gave away coins as part of new member weekend deals, offering $100 in Cove Coins for bringing in a new member and $50 in Cove Coins for renewing memberships. Another giveaway promised $20 of Cove Coin incentive to members who bought their rooms online.
Anyone Care for a Mint?
"Cypress Cove had previously worked with Vaughan on many advertising specialty products, scratch pads, mugs, t-shirts, pens, coasters and key chains. He also helped them with the original "Bare Bucks" coins, redeemable for $5 at the resort's many restaurants and gift shops. Previously, Cypress Cove purchased 5,000 Bare Bucks coins, but they wanted to do something more limited to celebrate their anniversary milestone. Vaughan worked with Osborne Coinage to mint a special coin—the same size and color, only with a different engraving.
They (Osborne) were great to work with," recalls Vaughan. "Very quick with their responses and very helpful with the layouts and proofs. They were very knowledgeable with the process and passed that along to myself to help assure that the client got the exact coin that they wanted. They were helpful in meeting our delivery time as well."
Since the original order was placed, Cypress Cove has placed 3 additional re-orders.
"I think that speaks volumes as to how well the commemorative coin was liked by the client as well as their customers. Each re-order has been seamless which you hope as a distributor is the norm but you would be surprised at how many times a simple re-order turns into a nightmare."
In his 15 years of providing promotional products for varied customers, Vaughan has seen "so many simple re-orders go sideways because the manufacturer saved the wrong artwork or simply had a miscommunication with the factory. So working with a manufacturer that makes placing re-orders a breeze is always a great help."
Pocketing the Change
The commemorative gold coins are convenient for the resort, because all the coins stay in circulation, provided that the guests don't take them home. They are convenient for the guests because it means they don't have to carry around as much cash, and when you're not wearing anything (much less anything with pockets), the less you have to carry, the better.
Cypress Cove bought 1,000 of the commemorative anniversary coins, and immediately put them into distribution. AANR members from across the world received the coins on cruises and at other events, and flocked to Cypress Cove to spend their coins. The guests loved them. They were used to using the coins, and now with the limited edition, they realized they are part of something special—the little commemorative gold coin in their hands celebrated the golden anniversary of their favorite place to vacation au naturale.