It's that time of the year my husband loves, the return of football season. With this past year's season of high school, college, and professional football's convoluted schedule, he is excited to return to some schedule normalcy. I personally don't care for football; I often say I tolerate it for my husband on Fridays, Saturdays, Sundays, and Mondays.
One thing I do appreciate about football is the recognition programs for high school and college players. I am not talking about the headline shows on ESPN or the player of the week accolades; I am talking about helmet stickers! The most famous helmet sticker is the brown and scarlet buckeye from The Ohio State University, which is about 100 miles north of our manufacturing plant. For high schools and colleges, a helmet sticker is the greatest form of recognition. It is something earned and displayed with pride.
The ingredients of these recognition programs are the same seeds that spawn recognition programs in the business world. Being able to recognize a victory, congratulate a job well done, acknowledge extra effort or honor longevity is a true sign of employer appreciation.
Why recognition?
Being a manager I can answer the question "Why recognition?" with one word: "DUH!" And follow with: "Why not?" It's a proven fact that a simple thank you goes a LONG way to show your appreciation and respect. Here at Osborne Coin, we work with companies across numerous industries to develop a form of "helmet sticker" recognition. Instead of that vinyl sticker though, we craft customized, often personalized, coins. These tokens of appreciation not only announce performance and success but also substantiate and commemorate the endeavor.
A Helmet Sticker for Doran Manufacturing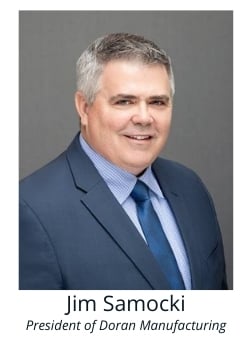 One of the more recent, robust, and instantly successful recognition programs we completed was for Doran Manufacturing. We partnered with Jim Samocki, president of Doran Manufacturing, on the development of a recognition program designed to honor employees while promoting the company's mission and vision to "Create an Extraordinary Place to Work and Have a Career." It was Jim's goal from the outset to demonstrate appreciation for the efforts, years of service, and goals for the team he inherited in June 2020 when he was promoted to the role of president in the midst of the COVID-19 pandemic. He energetically launched himself into his new role with the company by emphasizing the fact that "we are all in this together and we choose to believe in better."
Presidential Conversation
Whenever we create customized coins, the reasons behind them always pique my interest. I am intrigued with why it's made - what is the purpose, the goal, the desired outcome? For Doran Manufacturing's recognition program, I wanted to know more! I worked with Mr. Samocki early in the development process, and once the program launched I asked him personally about the who, what, when, where, and whys of the program. Here is that conversation and in essence a step-by-step guide to creating your own program:
First, let me introduce Doran Manufacturing: Doran is a technology company based in Cincinnati, Ohio that design, develops, engineers and provides customized solutions for commercial vehicles and more. One of Doran's elite product lines is their tire monitoring system for fleet trucks, mining, and off-the-road equipment. Doran also produces exterior light monitors and Sleeping Child Check® monitors for the school transportation market. Every one of Doran's team members has the daily opportunity to create new solutions to customer challenges due to the range and diversity of their product lines.
Jim Samocki is the president of Doran Manufacturing and the originator of the recognition program at Doran. Jim's tenure spans almost 14 years with Doran. He worked his way up from general manager, to vice president to now president. Throughout Jim's career with Doran, his philosophy is that as a team, WE are the company and not employees that work FOR the company. Jim encourages his own personification of the company to become the example that every team member can emulate. After speaking with Jim, I now understand why he considers it so important to have a recognition program that not only salutes efforts but also demonstrates true appreciation.
Gibson: Jim, congratulations on your promotion to president of Doran Manufacturing. Is developing this recognition program your first major move as the new leader?
Jim: The career coin recognition program was one of the primary changes that I wanted to adopt soon after I took over the leadership role. Primarily, the new program is designed around the concept that we use our core values to make Doran an extraordinary place to work and have a career. Those are the beliefs that I lead by and the recognition program is one of the ingredients to emphasize the need to "be the company." Many of my other directives build upon the foundation that our owners built over more than six decades in operations, but the scale of designing a set of physical coins to acknowledge the tenure and accomplishments of our team members' time was grandiose. I am proud of the fact that this program is designed to honor the team member, the team, and the company.
Gibson: What makes this recognition program different from any of the others?
Jim: Gibson, I have to show that I am a raving fan of Osborne to properly answer that question! Our program was crafted as a way to recognize extraordinary effort, career milestones, and hallmark successes. Osborne Coin worked with us to create a one-of-a-kind, memorable coin set that depicts each reward in an individualistic nature. Our goal was to give our team members an aspirational desire to accumulate various coins and in turn, visibly demonstrate their commitment to the company and the company's appreciation for that commitment. With Osborne's graphics team and production capabilities, we crafted truly unique collectible coins that physically represent a job well done and can be displayed with pride and shared with all. I have said it before, but I want to say "thank you" again to Osborne Coinage for helping us develop such a prestigious program.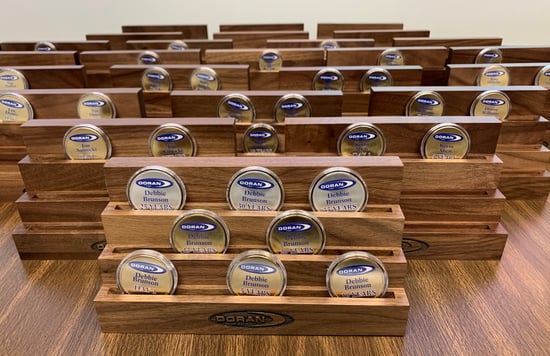 Gibson: Is there one component of the program of which you're proudest? One coin that sets not only the program but Doran Manufacturing, apart?
Jim: Most certainly! We made the decision to mint a Day One coin with the name of a new team member and the date of the start of their career at Doran. The coin is given to every team member on their first day working with our company. I personally see that each team member receives this customized welcome to Doran Manufacturing and by doing so to introduce myself and welcome them to the team. This enables me to create a personal moment with each team member, express my appreciation for them joining us, and share with them that we are a team throughout the organization - from the front office to the manufacturing floor. Regardless of title or role, every new team member starts his or her career with this everlasting statement of gratefulness.
In addition, we understand the battle for good talent is fierce and how important the onboarding process is to career longevity. We do not want to take any new hire for granted and intend to reinforce that they have made a good decision to come to work with us and we want to assure them that they have joined a team where people are truly valued.
Gibson: What do employees do with their milestone coins?
Jim: During the program creation, we thought long and hard about the effectiveness of these rewards if they were tossed in a drawer and forgotten. That was not what we wanted. We believed that these collectible coins would become symbols of hard work, good work, and gratitude. From the beginning, we encouraged all employees to display their collection and show others everything they had accomplished. We didn't want it to become a competition, but instead a way to share appreciation. Each initial coin, be it one printed with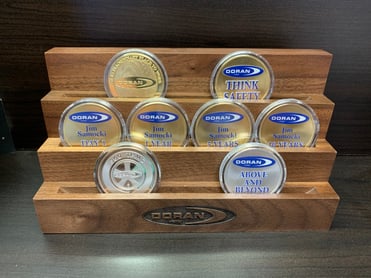 Day One or a Think Safety (1,000 Days Safe) marker, is presented with a Doran laser-etched display stand. These branded racks are capable of beautifully displaying twelve coins. Moreover, these displays become prominent fixtures in a workspace or home office. They are great conversation starters and true indications of our culture.
Gibson: What is the most prestigious honor to date?
Jim: Well that depends on whom you speak with on our team. We have a number of team members who cherish their "Above and Beyond" coins and others that believe their "Thank You" coins are most valuable. My favorite is presenting our "Milestone Rounds"; being able to give a long-tenured employee a sign of gratefulness for their service. Ultimately, the most coveted coin is the .999 fine silver coin that is awarded beginning after 25 years of service and every 5-year increment thereafter. The current average tenure of our Doran team is more than 11 years. I am coming up on completing year 14 and the high polished brass coins that mark this are gorgeous, however, the winners are those that have lasted with us for more than a quarter-century. When we debuted the program, Ms. Debbie Brunson received the very first 35-year sterling silver round; in fact, it was one of 12 coins that she received for her display stand when we launched the program last October. The majority of these 39 mm (1.54") diameter coins are made of brass and printed, but the significant anniversary and "Above and Beyond" rounds are minted in silver - another way with which we show our level of appreciation.
Gibson: How has the program caught on?
Jim: I am very proud of the way the program has been accepted and reinforced our career recognition program. A true testament to its success is when peers desire to recognize other peers and their leaders for jobs well done. These honors are not given out "Willy-Nilly" so to receive one has become a coveted event. One further step that solidified the program in my eyes was when one of our supply chain team members asked if we could create a coin to recognize a distribution partner. They wanted to take our recognition program externally and acknowledge how one of our partners helped us become "better versions of ourselves." That was a great move and truly showed the meaningfulness of the program on a multitude of levels. Since that first new idea, we have honored long-lasting manufacturing partnerships, customers, distributor sales successes and even presented our ownership with anniversary rounds commemorating our appreciation for their longevity with the company.
Gibson: Having the quality and quantity of success out of the gate for your recognition program, is there anything you would suggest or recommend for companies out there wanting to initiate a similar program?
Jim: Go for it. I believe in my heart that business is still about people and this is a very cost-effective and unique way to do it! Everyone is talking about company culture, and there are plenty of empty platitudes out there. This program is one step towards building that culture of teamwork, appreciation, and success. Overall, map out the program in advance, be very discerning when it comes to what will be recognized, and most importantly, work with a partner like Osborne Coinage to produce world-class quality and truly individualize your program.
Osborne Coinage
Our team at Osborne Coinage is very appreciative of the opportunity to assist Jim Samocki and Doran Manufacturing in the development of their recognition program. Projects like these allow our creative teams, engravers and tradesmen the opportunity to "spread their wings" and craft coins with a purpose. Osborne Mint can make it easy to start your own company recognition program. Visit www.osbornecoin.com and connect with one of our team members.
Helmet Sticker Envy
Sure it would be cool for everyone to have a helmet adorned with stickers galore, but at our office at least, that would look pretty funny! Instead we will have to distribute our own collectible coins as signs of recognition. Perhaps after reading this, my husband may even get me a round recognizing my toleration of his football Friday, Saturday, Sunday and Mondays?
Bookmark our blog page, share on social media (Facebook , Instagram) and send it to fellow collectors. Look for our hashtags...#Osborne, #OsborneMint, #MadeinAmerica