3 min read
Osborne Coinage Partners with Royal United Mint

Gibson Olpp : Apr 5, 2023 11:55:23 AM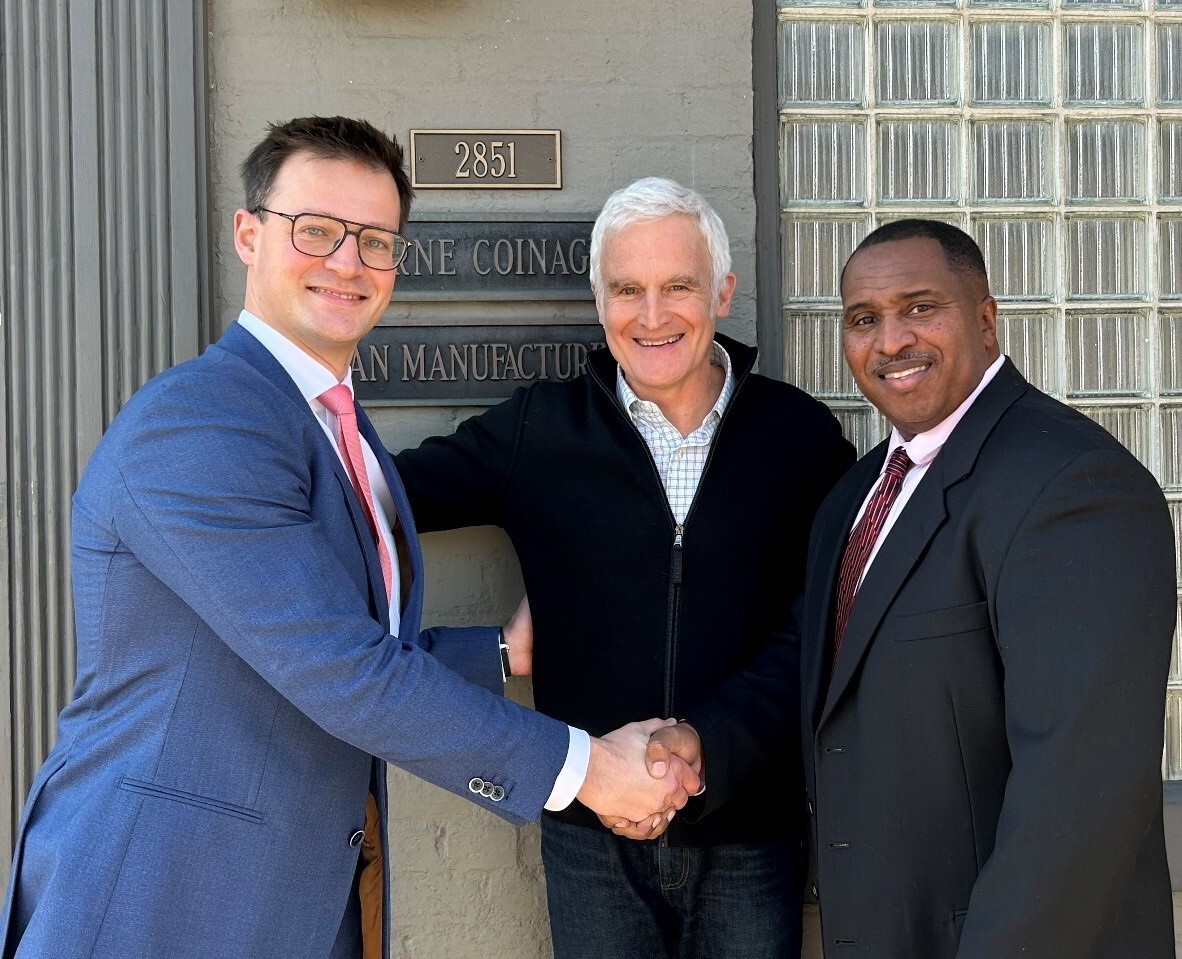 A New Era for Osborne Coinage
Osborne Coinage, the oldest private mint in America, is pleased to announce a partnership with Belgium-based Royal United Mint. Andre McCaster, the current president, becomes CEO and joint shareholder in this venture.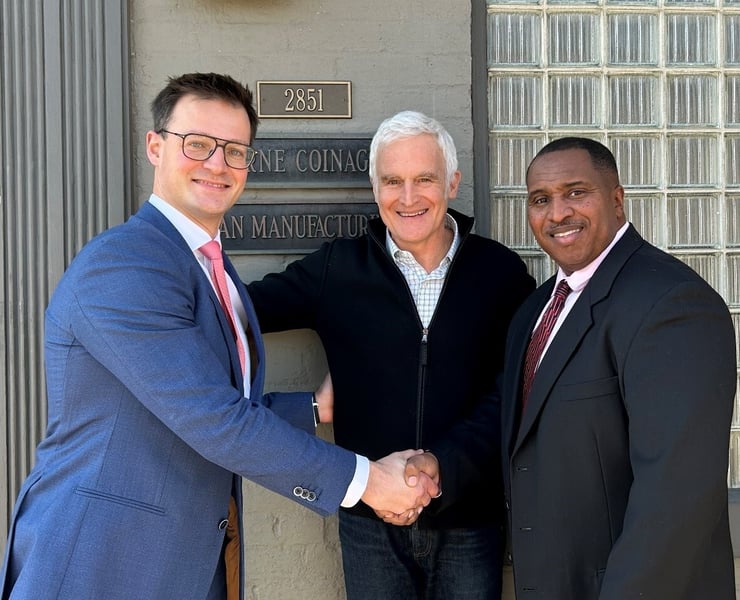 Pictured L to R - Vincent Van Hecke (CEO Royal United Mint), Jeffrey Stegman (CEO Osborne Coinage), and Andre McCaster (President Osborne Coinage)
Osborne Coinage, the oldest private mint in the United States has had many historical milestones in its 188 years of doing business, including minting campaign medallions for Abraham Lincoln, creating scrip for lumber mills and coal mines in the early 1900s and manufacturing billions of fiber ration tokens during World War II. After WWII, the company's focus shifted to commercial applications like subway and toll tokens, the production of tokens for subways and toll roads, casino tokens, promotional business coins, commemoratives, awards, and collectible numismatics. The Stegman family has owned the business for 75 years.
Another Milestone
Effective April 3, 2023, Osborne Coinage Company reached another milestone by becoming part of the Royal United Mint, joining notable companies The Royal Dutch Mint and Mauquoy Token Company.
Shared minting knowledge and expertise of three mints
This partnership facilitates knowledge sharing, an expansion of the product range, as well as efficiency gains in production, sales, and logistics.
Andre McCaster, is now the CEO. McCaster has been with Osborne for 27 years and worked his way up the ladder from production operator to production control manager, Vice President of Manufacturing, and most recently, President. He has several degrees, including an MBA from the University of Cincinnati.
"Our goal has always been to be a true leader in the minting industry by providing quality, unique, and timely products/services throughout the world. By forming this partnership with the Royal United Mint, we will be able to increase our capacity, product offerings and better serve our domestic and international customers, said Andre McCaster, President of Osborne Coinage.
An impressive history as the partnership foundation
Osborne Coinage is the oldest private mint in the United States and joins a group of companies with an equally rich tradition. The Royal Dutch Mint was established in 1567 and is one of the oldest companies in the Netherlands. Mauquoy Token Company was founded in 1875.
"Osborne Coinage Company is approaching its 200-year anniversary. As the representatives of three generations of our family stewarding Osborne Coinage Company for the past 75 years, we are pleased and excited for the next chapter", say the former owners Jeffrey Stegman and Todd Stegman.
About Osborne Coinage
Osborne Coinage, based in Cincinnati, Ohio offers a wide variety of custom coins for applications like awards, gift certificates, commemoratives, food or drink coupons, giveaways, in-box promotions, grand opening celebrations, sporting events, challenge coins, and souvenirs. In addition, Osborne Coinage produces blanks in base metals for other mints, as well as commemorative and circulation coins for central banks and Collectors.
---
About the Royal Dutch Mint
The Royal Dutch Mint ("RDM") was established in 1567 and is one of the oldest companies in the Netherlands. RDM belongs to the top five mints internationally. RDM is the first and only private mint certified to strike euro coins. RDM is one of the most efficient and advanced companies in the mint industry and developed innovative techniques, including laser engraving for the mint industry as well as special design technics (hologram and moving images). RDM has struck coins for more than 70 central banks.
www.royaldutchmint-corporate.com
About Mauquoy Token Company
Mauquoy Token Company ("MTC"), based in Westerlo, Belgium is Europe's largest manufacturer of tokens and blanks in base metals with global export. These tokens are used in a vast array of industries and applications, ranging from vending and amusement machines, to promotional actions and events. Blanks in base metals are sold worldwide to public and private mints.
About Royal United Mint
Royal United Mint is a holding that invests in promising niches of the coin industry. Besides the three mints (Royal Dutch Mint, Mauquoy Token Company, Osborne Coinage), the group has related activities in its portfolio: an operator of souvenir coin machines (National Tokens), a webshop with custom tokens for the B2C market (Vistamint), storage and logistics of value products (Dutch Value Logistics) and a manufacturer of tools for the metal processing industry (Tools & Dies). Royal United Mint will employ over 200 people (including the acquisition of Osborne Coinage).
Interested in seeing more information about custom coins?
Here are some additional resources:
Related posts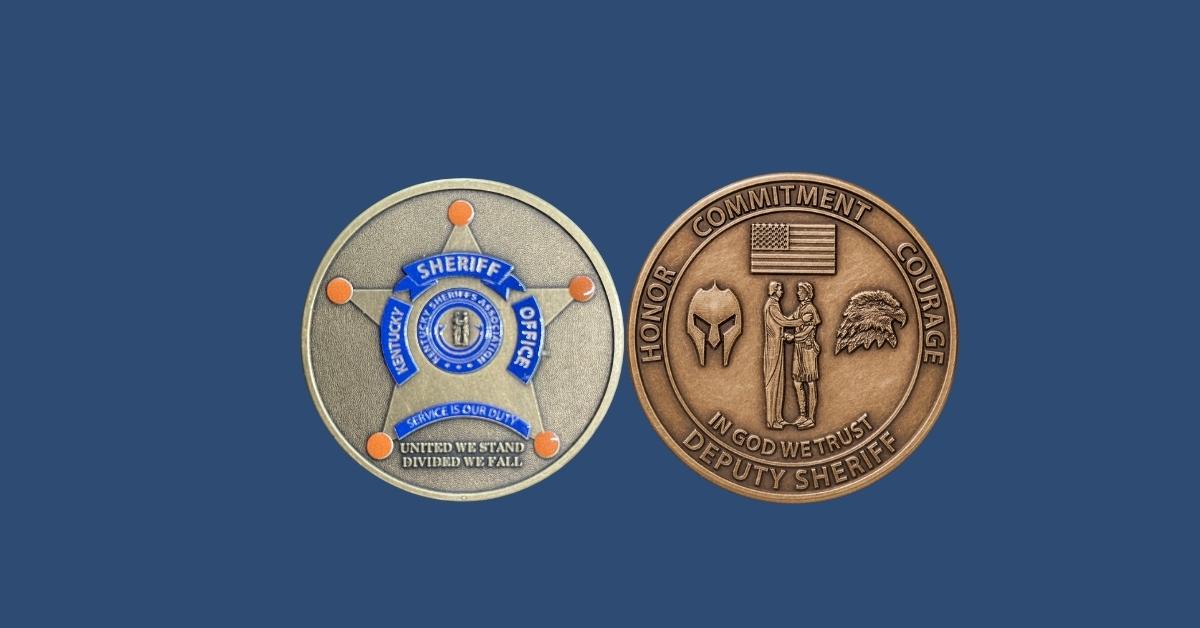 Kenton County (KY) Sheriff's Office Creates a Series of Three Commemorative Challenge Coins
Read More