Custom Coins Carry the Theme and the Day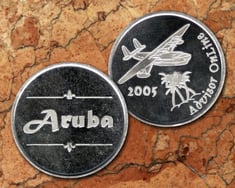 Custom coins can have a huge impact on your next event, outing, promotion, or campaign by carrying the theme through to another level. That's what we found when we talked to a disparate group that included schools, non-profits, as well as large and small companies who used custom coins as part of their overall marketing efforts. Unlike paper-based products which can be thrown away, there is something uniquely "sticky" about coins that makes people want to keep them. Which makes using promotional coins a natural extension of many marketing activities.
Coins Provide the Hook for Pirate Treasure Theme at Irving Arts Center Event
Each year the Irving Arts center stages a family event to kick off their summer camp series. The free event is designed to draw children aged 5 – 14 and their families into the facility, and "get a jumpstart on summer fun by offering various activities, arts activities, and games" says Kristin Gibbins, Director of Marketing for The Irving Arts Center. Hopefully these activities will spur interest in the Center's summer camps. This year's April 1st event, "Spring Fling Art Adventure" featured a treasure map which guided the kids through various activities. The map ultimately led to – what else – a pirate with a treasure chest full of loot!
Well actually it was Irving Mayor Pro Tem James Dickens dressed as a pirate, but the sculpture of a pirate ship was real, as was the treasure chest, and the coins it contained. "We had a gigantic treasure chest and thousands of these realistic gold coins to fill it" recalls Gibbins. "It was really a neat visual for the kids to head up the path after completing their map to see the treasure that awaited them."
"The kids worked really hard," continues Gibbins. "Because they had the incentive with the map, and the coins, many didn't leave the event until they had completed all of the activities. The entire event came together because of the success of the theme and the coins."
The treasure chest was stocked with 3,000 coins which contained the Arts Center's logo, phone number and website address. Over 1,000 were given away at the Spring Fling, with the remainder to be used for other promotional events throughout the year. "We always have events where we need promotional items. Plus it is something universal that we could give to adults as well" concludes Gibbins.
It is easy to say things like "how can you put a price on the joy of a child" but that's not a rationale that Gibbins can use in budget meetings. She prefers to state results – like an increase in the number of Spring Fling attendees and a Summer Camp that was more popular than ever.
Overall, Gibbins is pleased with the results of the Spring Fling. "The kids really liked the coins - we felt that it really tied in with the theme. We definitely had an impact – the whole theme came together with the custom coins." Apparently its impact effected camp sign-ups and other Arts Center objectives, in a positive way…matey.
OK, so gold coins are great for kids, but kids are easy. "Will they work with adults?" you might ask? Mutual Service Corporation found out when they were planning their 2005 annual meeting.
Treasure in the Mail Builds Buzz for National Conference
Mutual Service Corporation used custom coins to tie-in their "Aruba" theme, and make their 2005 National Conference unforgettable for the 900 attendees. New software they were promoting at the early May event, called Advisor OnLine was codenamed "Project Aruba." A letter was sent to the attendees, promoting the software and how it would benefit their business. The envelope also contained a custom aluminum coin bearing the name of the software and its codename ("Aruba"). The letter also directed them to bring their coins to the round table discussion, for a chance to win a prize.
Two of the promotional coins had been painted gold, mixed into the rest of the mailing materials, and sent out at random. During the round table discussion, while they were discussing the advantages of the Advisor OnLine program, Chris McDaniel – Senior VP and Chief Information Officer for Mutual Service Corporation asked everyone to dig into their pockets and bring out their Aruba coins. He then asked the holders of the gold coins to step forward. Two lucky recipients were presented with another themed tie-in, "Aruba shirts" (which appear similar to Hawaiian shirts to the casual observer).
"It was a great way to promote Advisor OnLine or 'Aruba' and build enthusiasm" stated Mutual Services' Christine Savarese who assisted in the ordering and distribution of the promotional coins. "Originally, we wanted to send nickels from Aruba, but it was impossible to get that many, so we made our own custom coins. We were able to mint the coins exactly like we wanted. It was a great way to tie-in our theme."
In addition to being a memorable part of the annual meeting, the custom coin promotion was cost effective and time efficient. The coins, which were purchased from Osborne Coinage co. for less than a $1 each, were delivered within four weeks of the order date. Since people tend to keep custom coins, they'll serve as a constant reminder of the National Conference, evoking memories of Mutual Service Corporation, Advisor Online and "Project Aruba" for years to come.
Aluminum coins painted gold became a prize winning coin for attendees at Mutual Service's meeting – and gold coins with a ribbon became gold medals for students in a southwestern Ohio school.
Lincoln Elementary School Students "Go For The Gold"
Near the end of the 2004-2005 school year over 700 achievement medals were distributed to students at Lincoln Elementary School in Hamilton, OH. That's an average of more than 1 medal per student in this K-6 elementary school in Southwestern Ohio. Unlike grade-oriented programs that recognize only the top academic performers, the "Gold Medal" program at Lincoln was a reward program for attaining academic goals that were established by student and their teacher together.
The concept was developed because of the proficiency-testing at the state level. "Basically, testing at the state level had one goal – to be proficient or better" explains Lincoln principal Bill Brunner. "Unfortunately, a natural perception developed for our community, parents and the students who equated proficient with passing and anything less was viewed as a "failure" continues Brunner. "When students and teachers work as hard as they can work, then fall short of the proficient mark, how can we expect them to come back and work even harder when they feel that they have failed? So, we had every teacher sit down with each student and together establish goals for each subject being evaluated by the state. The goal did not have to be proficient or above. Rather the goal was a personal mark that both the student and teacher felt were reasonable and attainable. The program provided a mark for each student, so that when their test results came back from the state they could feel successful regardless if they were proficient or not."
"Together they determined what they felt was a reasonable academic goal based on past performance and the desire to maintain or improve upon performance in the subjects being tested at the state level," comments Brunner. The reward for achieving each goal – in addition to personal satisfaction, was a gold medal indicating the accomplishment.
"The results were as much as we could have hoped for," continues Brunner. "Many of the medals were proudly displayed in grocery stores, restaurants and other places around town as the recipients wore them out on their various activities over the following weekend. Inquisitive adults would ask about the medals and the kids could re-live their victory. All the while their self-esteem and self-confidence were being boosted. The program also allowed students, with teacher guidance, to set personal goals which modeled for them a valuable lifelong practice. In addition, the teachers witness what the students experienced along with how establishing a reasonable, attainable goal built a 'can do' attitude for both themselves and the students. And as a real bonus, as a school, we reached our goal to be recognized as an "effective School" by the state."
Allowing the teachers to present the medals to the students in their classrooms, the victory for both the teacher and the student was complete. Later in the day, in a school wide assembly, students and classrooms were recognized in groups as everyone who earned a medal in "reading" in Mrs. Smith's classroom, for example, was asked to stand, raise their gold medal, and be recognized with applause.
Actually the "Gold Medals" were custom Goldine coins from Osborne Coinage Company in Cincinnati. Attaching ribbons transformed the custom coins into impressive medals which were inscribed with "I reached my Goal in Reading, Writing, Math, Citizenship or Science" whichever was appropriate.
A Lot of Gold for a Little Green
Funding for the medals, which cost approximately $3.50 each, came from Lincoln's partner in education, First Financial Bank, the PTA, and from the school's special project monies. Lincoln traditionally has a spring school picture project which nets the school a discretionary amount of money. But if these sources were not available, Brunner suggested that a money-raising project of some sort would have been well worth the planning.
By giving the students and the teachers the flexibility to establish goals which they believed in, then it is inherent to work a little harder to be successful. When efforts are rewarded with successes rather than failures," concludes Brunner, "positive things are certain to occur."
Positive outcomes are as essential in school as they are in the workplace. One large Louisiana refinery found that coins are a unique part of their safety program.
Custom Coins Motivate Safe Practices in Plant-wide Safety Program
Custom coins have proven to be an integral part of a new plant safety program at a Louisiana refinery. Plant employees who are found to be operating safely are rewarded with a custom coin bearing the company logo on the front and a Safety message on the rear. After amassing a number of tokens, employees can trade them in for other prizes.
In addition to motivating individual safe practices, custom coins and medallions are also used to reward departments or whole plants for reaching Safety milestones (for example attaining a specific number of days without a lost-time accident). Inexpensive tokens form the basis of continuity programs when they are used to reward departments or teams for attaining safety goals – perhaps hours without a lost-time accident as measured in 500-hour increments. In other programs, inexpensive tokens are distributed to plant employees and carried around as a daily reminder (and incentive) to work safely. Supervisors can challenge workers to show their tokens – successfully doing so then earns the employee additional prizes. Carrying the safety tokens and viewing it with other "pocket change" serves as an ongoing reminder, and motivates employees to adhere to safe work practices. Random checks and rewards reinforce the message.
Custom coins can help carry a theme – even ones as widespread as "Safety" and "Aruba" and "Treasure." A well conceived theme carried through all aspects can make events, promotions, outings, and campaigns more memorable - and more effective. With the wide variety of coins, tokens and medallions readily available, you can find one that will work for your application without breaking the bank. Perhaps best of all, is the branding opportunity that coins provide. As people see the coins in with their pocket change or on their dresser, they are reminded of the theme - providing longevity that outlasts the event.