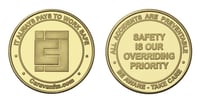 (Cincinnati, OH) Keeping safety "top of mind" is important in any industry. For Caravan FM the challenge is heightened because workers are spread across more than 70 sites and are involved in a large variety of tasks. Despite the challenge, this Saginaw, MI based facility management company has found an interesting way to develop a culture of safety that engages all employees while improving their safety metrics.
Caravan FM is in the business of facility management. They are responsible for the cleaning and upkeep of many automotive and other facilities. They clean offices, machinery, facilities— you name it, and they've likely cleaned it somewhere along the line. In a nutshell, they handle all sorts of tasks so that auto manufacturers can focus on what they do best – building cars. For some locations, the scope of their work extends well beyond custodial to include all aspects of upkeep and maintenance. Projects like fixing leaky roofs and plumbing, lighting, powerhouse, snow removal and more fall under their umbrella of care. In fact, they handle such a wide array of projects that their company motto is "We'll take care of that."
In addition to the automotive side of the business, Caravan has an Entertainment Group which services a wide range of customers, including Comerica Park and Joe Louis Arena. Here their tasks are predominantly cleaning up after home games and preparing for (and cleaning up after) events like the Sirius XM Hockeytown Winter Festival, when Comerica Park is transformed into a huge ice skating rink. Whether it is picking up trash, wiping down countertops and surfaces, sweeping the aisles and stairs or other activities, each of the company's 2,000 employees are involved in the safety awareness program. Because a number of Caravan's crew members are part-timers, and because most tasks are not inherently dangerous, it can be challenging to keep them focused on safety. That task has gotten easier thanks to a custom-minted safety coin.
"Our company owner, Brandon Bordeaux, came to me a few years ago with the idea of safety coins," recalls Corporate Safety Director Ken Zintel. "The idea was to give employees something to remind them to work safely and also to remind them to take ownership of their own safety."
An internet search led Zintel to Cincinnati's Osborne Coinage Company. As America's oldest mint, the company has plenty of experience minting all kinds of coins – including safety coins.
How It Works – Raising Awareness is One Side of the Coin
Each employee is given a safety coin at the completion of training, along with the suggestion to carry it with them at all times. When they see the coin with their pocket change, or when they reach for their keys, or when the feel its heft in their pocket, they are reminded to work safely. In addition to serving as a constant tactile safety reminder, the engraved tokens also present an opportunity for immediate "enrichment."
Company managers routinely engage employees in conversations about safety aspects of the particular tasks they are involved in. The first question is typically "do you have your safety coin?" If the answer is yes, then they are given a $5 gift card to Subway or McDonalds and engage in a dialogue about safety, including questions such as, "What task are you involved in today? What is the proper procedure for that task? Do you have the proper personal protective equipment? Do you know the standards for this task? Are you following them?" and so on. If employees do not have the safety coin, there is still a dialogue about safety – they do not receive a gift card and are told "if you carry your safety coin, next time you'll get the gift card."
"Employees like the gift cards, so that encourages them to carry the coin" said Zintel, "and whether they are or aren't carrying it, the coin gives our managers the opening to start the conversation."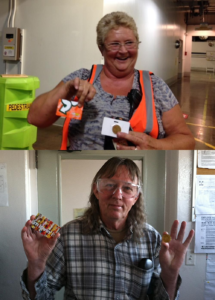 Tangible Results are the Other Side of the Coin
The safety award coins are one tool that Caravan FM uses to improve its safety metrics and create a culture of safe work. They also have an extensive training program that they are constantly improving upon, said Zintel.
"We're doing all kinds of things. We're measuring recordable incident rates and worker compensation costs and they are improving all of the time. I can't say that it is directly tied to the safety coin, but that is certainly one aspect of it. We have a core set of values in this company, and our #1 core value is that safety is our overriding priority."
Zintel originally purchased 5,000 of the custom engraved tokens from Osborne Coinage for $1,265. Although the initial supply has lasted 24 months, given the dwindling supply, he figures he's probably close to a reorder.
Keeping full-time and part-time employees focused on safety and working safely day-in and day-out can be a real challenge. But as Caravan FM has shown, creating a culture of safety in this environment can be accomplished with the right tools applied properly. Safety is the top priority – a message that is reinforced at all levels of the company. This consistency is one reason that it works so well. The bottom line is that the program is
successful thanks in part to the safety coins and the conversation starter that they provide to managers. To learn more about Caravan's safety programs go to www.caravanfm.com/qualityandsafety.php.