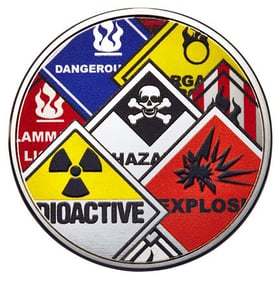 Osborne Coinage Company (Cincinnati, OH) is now able to print 4-color process directly onto a coin surface, allowing each individual safety coin to be customized or personalized with site-specific hazards, making them ideal for safety programs.
With digital colorization, it's possible to print readable QR codes, realistic color (including skin tones), gradients and fine lines onto coins. Logos and images, including faces and fine detail, can be clearly shown, and metal show-through is also an option. Colors can be matched exactly to a PMS number. Every colorized coin can be personalized with variable copy, such as individual names, or sequential numbering.
Digital colorization is available on 39 mm (1.54-inch) coins or key tags in brass, antique brass, nickel silver and fine (Sterling) silver. They are ideal for safety programs as well as to reinforce branding.
Minimum order is just 250 pieces (100 pieces for sterling silver).