My Silver American Indian Chiefs Set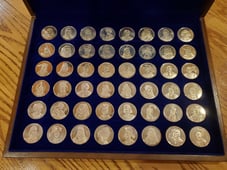 My father bought me a series of collectible pure silver rounds back in 1979 as a gift. I remember him saying to me, "If the price of silver goes up, you may be able to use these to put a down payment on a house." WOW how times have changed, even at $48/ounce I am not sure the rounds would work as a down payment.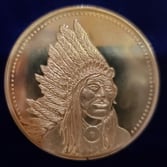 Each of these collectible rounds are 1 ounce, .999 fine silver and feature famous American Indian Leaders. The American Indian Leaders Historic Medal Collection has 48 rounds, complete with a wooden display/storage box and a series of individualized information cards, noting facts about the leader engraved on the round. The box of silver rounds has been in the safety deposit box for at least 20 years; I have not seen them or thought about them for a long time. Perfect timing; I can go get them and if the spot price peaks, I will be ready to "cash them in."
I received these rounds back in 1979. The promotion was sold exclusively by JC Penney's credit department. They partnered with a private mint from Cincinnati. This was a limited edition set with only 5,000 complete versions available. My father was able to get #945 one of the first 1,000 collections. Great number! This is where it gets weird. As I am "inspecting" the collection, I see something familiar. These rounds were designed, engraved and sold through the Osborne Mint. What? Osborne Mint? That's where I work! How can that be, a set of rounds that I have had for over 40 years was crafted by the company I now work for? You can't script that!
To read the full story - visit https://www.osbornemint.com/from-the-mint/14-0-native-american-silver-set or click here.