A Direct Mail US Currency Alternative
In mid-June, the Federal Reserve started limiting the allocation of US coins due to the Covid-19 pandemic. Pennies, nickels, dimes, quarters, half dollars and even full dollar coins are in extremely short supply. This is an unheard of moment in our country's recent history where US coins are being rationed, not seen since the rationing of coinage during WWII to better utilize the metal for the war effort. The Feds have even set up a US Coin Task Force to ensure equitable distribution of Federal Reserve coin inventory and new coin production by the US Mint. But all of this isn't helping the current and near term forecast.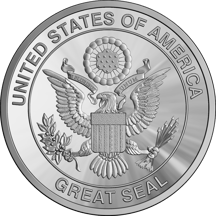 Similar to World War II when Osborne minted billions of fiber ration tokens to support the war effort, they are stepping up to the plate to offer alternatives to help alleviate this situation for charities who use American coins in their fundraising mailers.
Osborne Coinage has creative alternatives to every US coin denomination now in short supply. They have the SAME type of minting equipment as the US Mint, so their custom coins are remarkably similar to actual currency in size, metal, weight, feel and look.
When it comes to custom coin/medallion prices, something thats costs $0.01 (a US penny) is a hard control to beat - BUT they can beat the cost for multiple pennies (or other denominations) that are affixed to a Direct Mail (DM) package. Nickel, dime, quarter and half dollar alternatives are VERY affordable. Plus, using a medallion as opposed to a coin allows the opportunity to customize both sides to tailor it to your appeal and strike a deep, resonating chord with the targeted donee.
Osborne Coinage's metal alloys are 100% sourced in the USA, and the medallions made from this material are produced in Cincinnati, Ohio, as they have been since 1835. This means a custom designed coin can be turned around in a matter of weeks. An in-house graphic team makes it super easy to go from concept to final art in record time.
Making the switch from US coins to an untested method can be a big decision. Special pricing is available to run a smaller test against the control to help crystallize your decision. This pricing is designed to help realize the best possible return.
Trying something new can be a difficult decision and there a few possible outcomes.
You break even
You lose a slight amount?
You see a dramatic return in your response rates and donation levels
Obviously #3 is the best case scenario out of these choices. Osborne Coinage can help you design a package that can save you upfront money, increase responses and realize a higher donation rate? In some cases, you can realize a 34% savings over US currency right out of the gate! To ensure a good product fit, a FREE sample package of alternative coins is available.
Osborne's fund raising and direct mail expert, Mike Jaquillard is just a phone call or e-mail away if you have an idea you want to bounce off him. His years of experience are ready to help you realize dramatic returns on your mailing.
He can be reached at 800-488-2646 or via e-mail mikej@osbornecoin.com.
Do you want to talk about how custom coins can work for your fundraising strategy? Fill out the form to learn more.